Skip to main content
We're Here for You American Electric Power is committed to the health and safety of our customers, communities and employees as we closely monitor the COVID-19 pandemic. Learn more
×
October 13, 2020
Art on the Plaza Highlights Diversity, Inclusiveness
Indiana Michigan Power is contributing to the robust downtown Fort Wayne, Ind. art scene and demonstrating its support for an inclusive community by sponsoring an art activation and display on the Indiana Michigan Power Center Plaza.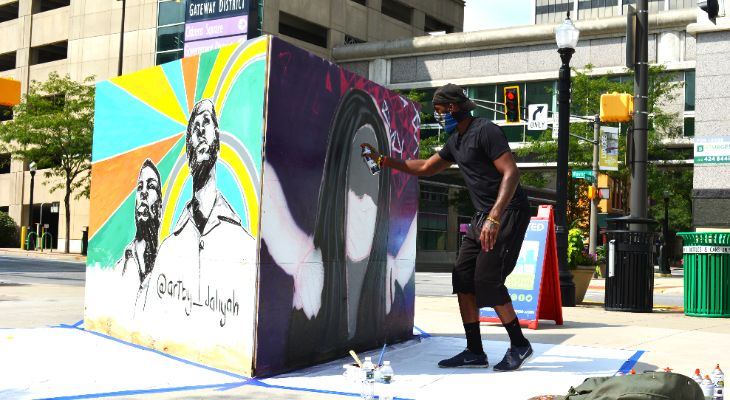 Art This Way and the Fort Wayne Downtown Improvement District hosted the activation Saturday and Sunday.Artists created murals on plywood on the plaza in September, and the art will remain on display on the plaza until just prior to the annual wreath installation in November. I&M will donate the art to local non-profit agencies.
"The importance around diversity and inclusion is fundamental to the people at Indiana Michigan Power who keep the lights on 24/7 and power the lives and business in the area," said Toby Thomas, President and COO, Indiana Michigan Power. "We are thrilled to be a part of this expression of art along Art This Way and emphasizing the need to treat everyone equally."
Mural artist Jeff Pilkinton commented on the Art Activation on IMPC by saying, "I am always happy to help out and use my creativity when it comes to such positive organizations and promoting diversity. I am honored to be a part of this exciting activity."
Additional artists who participated in this activation were: Jasmine Pilkinton, Isis Shaw, Jasmine A'shadieeyah, Sara Scott, Seddrick Lorick, Theoplis Smith III, Jaliyah Rice, Nigel Roper, Stephen Sauick, Terrence Jackson, Madison Wallace, Christina Aguilar, and Drece Guy.
I&M will donate their work to non-profits, including the Center for Nonviolence; Amani Family Services; Fort Wayne UNITED; The Boys and Girls Club; Arts United; Girlz Rock.
I&M employees who worked to showcase diversity and inclusion on the plaza included Kim Sabrosky, External Affairs Director; Ashley Savieo, Economic & Business Development Manager; and, representing I&M's VOICE (Valuing Organizational Improvement and Community Excellence) Employee Resource Group, Rebeca Garza, Customer Operations Supervisor, and Sherry Queener, Learning Coordinator.
They collaborated with Art This Way, which has been active in helping create the innovative and robust art displays in downtown Fort Wayne, and the Downtown Improvement District to initiate the art display.
Art This Way is a program of the Fort Wayne Downtown Improvement District. The overarching goal of the Art This Way program is to activate public spaces, beautify Downtown, encourage economic development and improve the pedestrian experience in Downtown Fort Wayne. Art This Way program has installed 14 projects within the 99 blocks of Downtown Fort Wayne. This fall, the program will install another five projects.